While reading and writing aren't typically taught until after preschool, children can begin developing the skills they need to become strong readers from a very young age. Early literacy skills are actually pre-literacy skills and include wanting to look at books, following narratives, recognizing print, learning vocabulary and identifying letters and sounds.
Parents who foster a love of reading early on give their children the foundation they need to build strong literacy skills, which are crucial for success across the primary and elementary school curriculum.
Additionally, working to achieve pre-literacy milestones can help parents identify the first signs of any learning difficulties which may be present, such as dyslexia, so children can receive the extra support they need when they first start to read and write.
How children learn language
As soon as they are born (and even before they leave the womb) babies are paying attention to language. Their first challenge is to learn to recognize the sounds of their native tongue. They do this from within the uterus by listening to the language(s) spoken by their mother and other people around her.
Infants may be born with fuzzy vision, but in healthy babies hearing is fully developed. They use their ears to take in all of the rhythms, patterns and language to which they are exposed. When a baby coos and babbles in infancy, he or she is practicing the most common sounds of language, in preparation for when his vocal cords will be developed enough to utter those precious first words.
However, even before they have the skills needed to articulate spoken language, babies as young as 6 months can learn to recognize words. Later on at 8-9 months they may even be able to produce some vocally and certainly to recognize and use baby signs. That's why it's never too soon to start expanding your child's vocabulary!

6 Ways to help children develop pre-literacy skills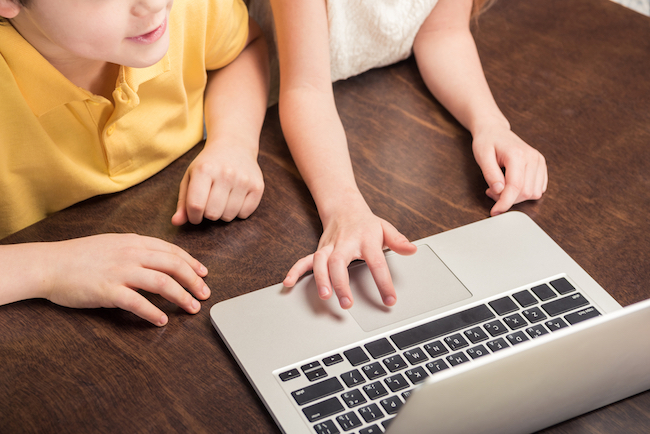 Helping young readers
Not all children learn to read at exactly the same age or pace and parents can certainly benefit from knowing the steps young readers will go through on their way to literacy.
But what if your child is struggling with some of the pre-literacy milestones, such as letter recognition, and is showing disinterest when it comes to books?
It may be there is a delay due to sensory impairment or a child could be struggling with learning difficulties, which can range from mild to severe.
Luckily there are plenty of steps parents and educators can take to ensure each child reaches his or her full potential when it comes to literacy skills.
Learn more about common reading problems, reluctant readers, and how to help children develop reading fluency.
Multi-sensory learning and technology
As older children learn to read and write, it can be helpful to introduce a multi-sensory learning course that combines audio, visual and tactile learning, fosters literacy skills development and introduces keyboarding skills at the same time.
Even at the ages of 7 and 8, children can learn to touch-type which helps them with letter and word recognition, reading, writing and spelling.
Leave us a comment and join the discussion!
Reviewed by
Chris Freeman has a BA cum laude in Sociology, and has undertaken post grad work in education and educational technology. She spent 20+ years working in public health and in the charity sector.
Read and Spell Blog
Early literacy skills
Estimated reading time: