Why parents and homeschoolers love TTRS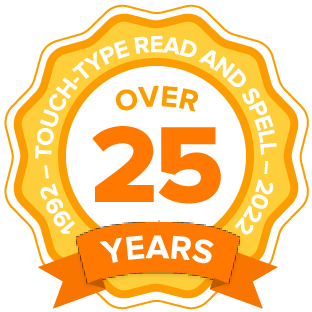 Uses structured word lists from the book 'Alpha to Omega' by Dr. Beve Hornsby – based on the Orton-Gillingham approach

It requires minimal supervision
It builds focus and concentration
It boosts confidence and self-esteem
It doesn't look or feel like a literacy solution
There's maths practice too
The whole family can use it
New features
Subject creator
Draft custom typing lessons so children can learn new material in a multi-sensory way
Free writing
Bridge the gap between typing lessons and learning to write on the computer
Trophies & weekly targets
Motivate learners and encourage regular use of the program
TTRS Reporting
Track performance and follow your child's progress on your smartphone
How does Touch-type Read and Spell work?
TTRS is modular in design and contains 24 levels with 31 modules in each level. A module typically takes a few minutes to complete. Student success is encouraged by immediate feedback and positive reinforcement. This feedback includes a score that appears at the end of each module.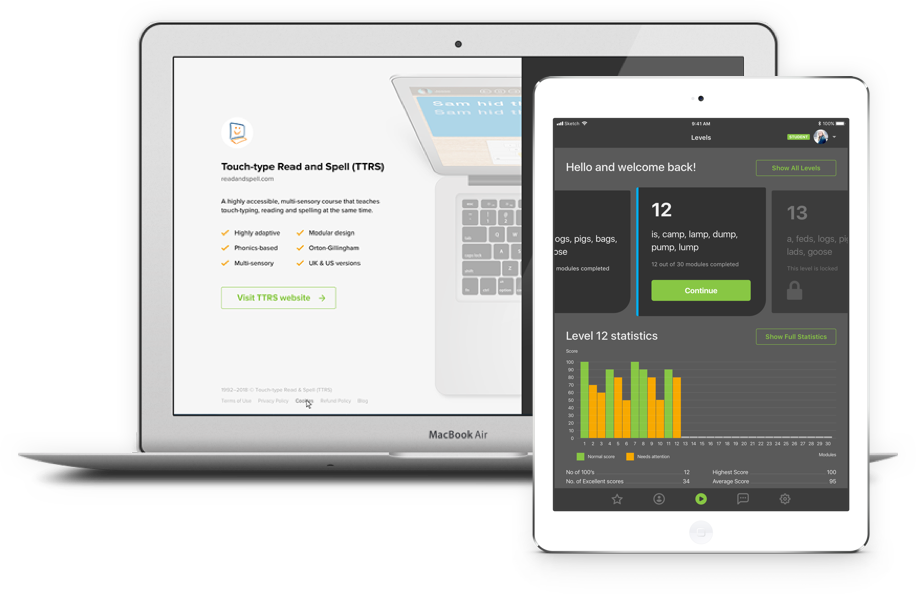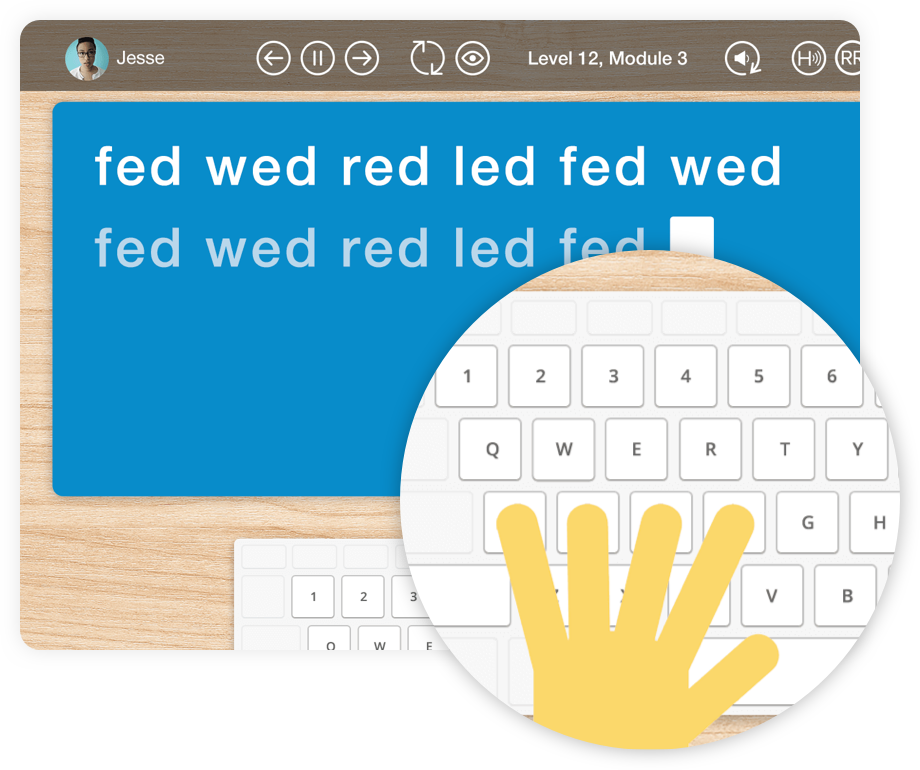 The course starts with students learning to touch-type, read and spell the vowels - a , e , i , o , u. The audio track accompanies the letters as they appear on screen, reinforcing sound-letter correspondence, which is a crucial skill for sounding out words in reading. The student then receives their first score - and success!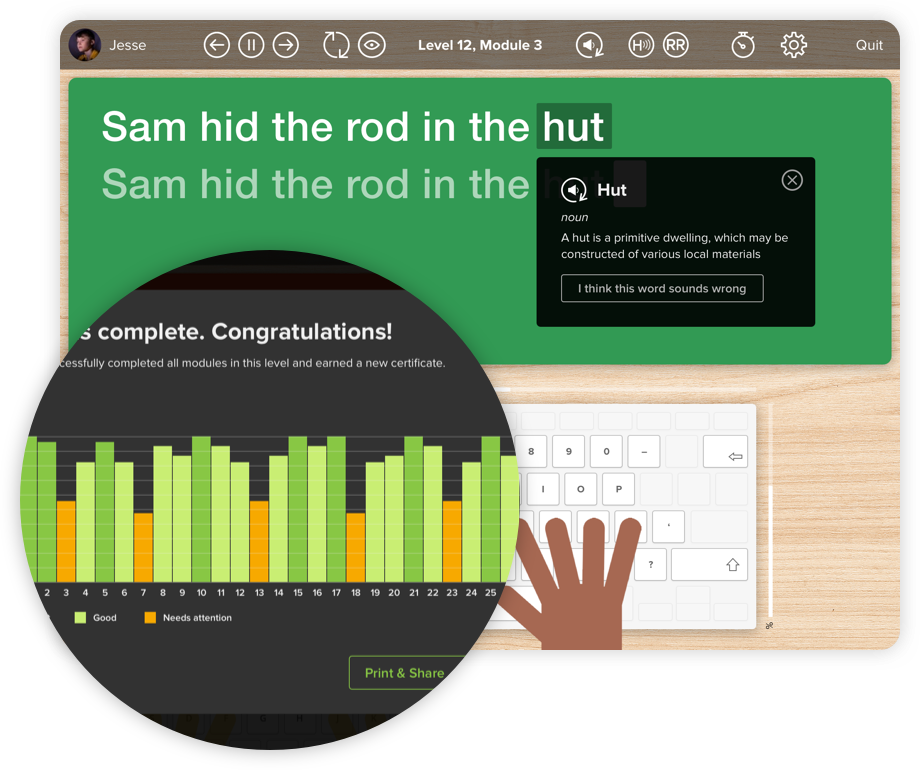 In the second level, the student is introduced to words grouped by onset, vowel-blend and final consonant. For example - fed, wed, led. This teaches phonics in context and at the same time the student is learning how to touch-type. With repetition, these words move from short-term to long-term memory. Every 5th module is a dictation module that removes the visual element encouraging the student to listen to the words and then type out what they hear. This reinforces the words introduced in the previous 4 modules. It also develops spelling by testing sound-letter mapping skills.
Some students with dyslexia have problems with their short-term memory. Repetition is a way of "over-learning" which can help with these problems. TTRS uses a multi-sensory approach to repetition learning. Through the multi-sensory approach, students hear the words read aloud, see the words printed on the screen, and are prompted as to which fingers to press via the on-screen keyboard. Finally, through the sense of touch, they type out the words and learn to spell with their fingers.
Frequently asked questions
For whom is TTRS designed? TTRS can help learners with dyslexia, dysgraphia, ADHD and dyspraxia master the keyboard and improve reading and spelling skills.
From what age is TTRS suitable? The program can be used for children aged 7 and up. It is appropriate at primary and secondary level, and is also a suitable program for adult learners.
Can TTRS be used on multiple devices? Yes! TTRS can be used on any desktop or laptop computer. There is also an iPad app for learning on the go.
Will I need to install TTRS? TTRS is an online course. After the registration, you can use it without any installation as long as you have an Internet connection. Our iPad app also comes with an offline mode.
How do the UK and US versions of the course differ? There are US and UK voice options. TTRS also has country specific subject courses. Please note that by selecting the US voice option the student will be learning US spelling conventions.
Which payment options do you have? We accept PayPal and all major credit and debit cards. If you experience any issues with payment, just let us know and we'll work to get  them resolved as quickly as possible.
What if I'm not happy? Subscriptions can be cancelled at any time and we also guarantee a 30-day refund policy on all plans. Simply email support@readandspell.com to receive a full refund.
Can parents monitor a child's progress? Yes, every home subscription comes with an administrator account for easy access to results and graphs showing learner progress. There is also a free TTRS Reporting app, so usage and performance can be tracked on your smartphone.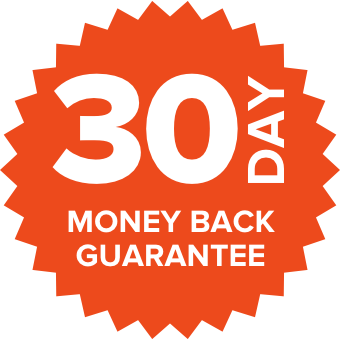 Start your subscription now
▾
United Kingdom

GBP

United States

USD

Europe

EUR

Canada

CAD

Australia

AUD

New Zealand

NZD
Prices include VAT.
Subscriptions are renewed automatically and can be cancelled or paused at any time.
All of our plans include:
Unlimited 24/7 support
Quick and easy setup
Maths & Science practice
Custom lesson creator