When kids lack confidence in the classroom, are struggling to keep up with their peers, need help preparing for exams or are dealing with a learning difficulty, parents may arrange for them to see a private tutor outside of school.
Tutors provide the extra scaffolding that less able students may require and can also encourage gifted children by introducing them to more advanced topics not covered in a school curriculum. By working one-on-one, tutors are able to go over content at a pace that is right for every child.
They can also assist with school assignments and help enforce good study habits, including setting smart targets which are specific, measurable, achievable, and relevant in a given time period.
Parents have many options today when it comes to finding the right tutor. Some families will prefer remote tutoring via an online platform, whereas others are looking for services that take place at a local school or library or in their own or the tutor's home. Sometimes the expertise of the tutor is the priority.
If the child is dyslexic for example, a qualification in working with dyslexic students is to be recommended. All the extra tuition in the world may not help if it is not "dyslexia friendly."
In addition, when a student needs to re-sit an exam the tutor should be able to provide targeted instruction on reading and listening comprehension strategies. They will also need to be familiar with the task and item types of the exam.
In other cases, a tutor needs a more general knowledge of the school curriculum, so as to provide assistance across several subjects or expertise in a skill, such as teaching composition in order to improve writing skills.
However you proceed, it's important to consider why you want a tutor in the first place and remember that paying for extra support will not guarantee overnight success. Tutoring is a long-term strategy and there are other factors, such as motivation, self-efficacy and in some cases reversing negative associations with learning, that will play a part in the progress your child makes.
How we learn
Sociocultural theory posits that learning is intrinsically social. We learn through interacting with others who are more skilled or knowledgeable than us. Nonetheless, it's important for material to be within our grasp in order for learning to occur and tutoring to be effective. In other words, material should be at i+1 or one step beyond a child's current level.
Just as is the case when a new floor of a building is constructed and workers put up scaffolding around the existing structure, a tutor provides the mental scaffolding a child needs to make small leaps in understanding information.
Tutors also reinforce study habits. Some children struggle not with a particular subject matter but rather with the time management and planning skills needed to perform school related tasks in an efficient and effective way.
Tutors can help teach these skills and set up structures, such as a calendar or folder system, that will help keep students organized and on track. It may also be the case that children are overwhelmed and need assistance breaking a task into more manageable steps that can be repeated and/or completed gradually.
Receiving individualized feedback and approaching tasks in a step-by-step manner can help a child feel more confident, build up motivation and master the kind of self-directed learning skills he or she will need to be successful.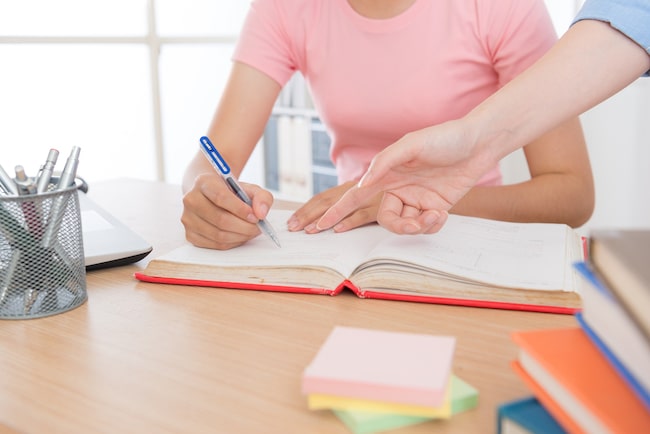 What to consider
Depending on the situation, parents may be looking for a tutor for remediation to assist a child in catching up, maintenance tutoring to help a child stay on track, support which provides a mixed approach, test preparation or tutoring aimed at enriching a child's understanding of a certain topic.
Here are some additional things to consider:
Qualifications
Is the tutor a qualified teacher? Has the tutor completed relevant degrees and/or training courses? This is particularly relevant when it comes to finding a tutor to help students who struggle with specific learning difficulties.

Experience
Has the tutor worked with children before? There are plenty of experts in a given field who lack the patience or experience required to work effectively with students of a particular age. Tutoring is also a different situation than regular teaching. It's important to find an educator who has been successful in coaching students using a one-on-one approach.

Expertise
How well does the tutor know their field? Are you looking for someone who is an expert in a particular area of the curriculum, has a more widespread familiarity with a variety of subjects or excels at working with students who have a particular learning difficulty? Support organisations may be able to help here. For example, in the UK, the British Dyslexic Association or your regional Dyslexia Association may well have a list of local qualified tutors. Another useful resource is PATOSS, the Professional Association of Teachers and Students with Specific Learning Difficulties, which has a Tutor-Assessor Index.

Passion
Positive emotions and enthusiasm are catchy. It's easier to motivate students and get them excited about learning when a tutor is passionate about what he or she does. Look for educators who thrive on helping students achieve success, or in the case of enrichment tutoring, are enthusiasts when it comes to a particular subject matter.

Personality
Sometimes finding the right tutor comes down to personality, particularly if a child has already formed negative associations with school or has had difficulty working with tutors in the past. If the first tutor you hire doesn't seem to be the right fit for your child, look for someone new. Learning is social and if the interaction is not conducive to learning then the relationship is not worth pursuing.

Convenience
Children have busy schedules and parents who are struggling to keep up with their kids' after-school commitments may find that driving an hour for weekly tutoring sessions simply isn't practical. If it's easier for your child to meet with their tutor after school, look for someone local. If they need to be able to study from home, consider an online tutor. If you can't do weekdays then ask a center about Saturday or intensive sessions.

Pricing
Money is an inevitable part of the discussion when it comes to finding the right tutor for your child. Consider in advance how much you can afford and put together a monthly budget so you can find someone that suits your child's needs and can continue on a long-term basis if needed.
Where to look
Online
Technology has made it much easier to find tutors who specialize in certain subjects or in developing general literacy skills. You may consider searching for someone on EduBoard, TutaPoint.com, Tutor.com, InstaEDU, or e-Tutor. When comparing online platforms, consider the kind of interaction you're looking for, as well as the different tools (video-chat, messaging, whiteboard) that tutors and students will have access to in order to facilitate learning.
Local Schools
Often schools, particularly private institutions, will be able to put parents in touch with tutors who have helped other students in the past. Parents may feel safer going through a school as they can be sure tutors are vetted and come recommended. You might also decide to put up an advertisement at a local school, library or university with a description of the services you are looking for, or check message boards for advertisements from tutors offering their services.
Tutoring Centers
Tutoring centers are private businesses which employ a staff of either full or part-time tutors. They may be more able to match your child with the right tutor as they have experience helping students who struggle with a variety of learning difficulties. Deciding to go to a private tutoring center may also mean your child gains discounted access to helpful tools and services, such as computer programs like Touch-type Read and Spell that assist students with developing literacy skills.
TTRS is carefully structured to meet the needs of students with specific learning difficulties. It can be followed at home or with a tutor.
Learning difficulties
Before beginning a search for the perfect tutor, it's important for parents and educators to assess any underlying causes of poor performance at school, such as an undiagnosed learning difficulty. This makes it easier to find a tutor who specializes in helping children master the strategies they need to overcome specific challenges and achieve their full potential.
Dyslexia
While there are many forms of dyslexia and no two children or adults will be affected in the same way, dyslexia typically impacts on reading, writing and spelling ability. When undiagnosed, it can cause a student to fall behind in literacy skills development, which is a serious concern as it impacts on learning across the curriculum. Students with undiagnosed dyslexia may also suffer from low self-esteem and develop negative associations with school.
Fortunately, there are strategies that can help, including computer programs like Touch-type Read and Spell, which provides a means for reinforcing phonics and teaching sight words while also introducing the skill of touch-typing. For additional information on tutors who work with TTRS, just get in touch with our team! Learn more about how to help dyslexic students.
ADD/ADHD
Children with attention deficit disorder can benefit from a tutor who helps them stay focused on the task at hand. That's because in a larger group these students may experience distraction that goes unnoticed until it results in poor performance on assessment measures. Kids who have attention deficit disorder with a hyperactive component may have trouble sitting still and may require tutors who can adapt lessons and add a physical component, such as interspersing study with activity breaks to facilitate learning.
Slow Processing
Processing speed refers to the speed with which a child is able to understand a task. Slow processing speed can cause students to misunderstand instructions, miss information and/or fail to complete assessment measures and other school projects in time. Finding a tutor who can repeat information or deliver it in a step-by-step way may be beneficial. Learn more about slow processing.
Dyspraxia
Having to do with fine motor skills, dyspraxia can make it hard for children to type but can also impact on planning skills. As is the case with dysgraphia, learning touch-typing on their own or with the assistance of a tutor can make a huge difference in facilitating literacy skills development for dyspraxic kids. Learn more about how to help students with dyspraxia.
In addition to the most common specific learning difficulties, children with Down syndrome, physical impairments such as low vision or blindness and individuals who have experienced a stroke or other traumatic brain injury may also benefit from tutoring.
Foreign languages and English language learning
Students who struggle with foreign languages or English language learning often see a dramatic improvement in performance and language acquisition when a native speaking tutor is hired. This is because language is essentially a tool for communication. One-on-one engagement that is personalized and of interest to the child makes it more likely that acquisition will take place.
Do you have any tips on how to find a tutor? Join the discussion in the comments! If you are a teacher who would like to become a tutor, check out this online guide from Tutora UK to help you get started.
Reviewed by
Chris Freeman has a BA cum laude in Sociology, and has undertaken post grad work in education and educational technology. She spent 20+ years working in public health and in the charity sector.
Read and Spell Blog
How to find a good tutor
Estimated reading time: