With Touch-type Read and Spell …


Learning is multi-sensory


Material is presented in bite-size chunks


Individuals set the pace of study


Initial focus is on accuracy vs. speed


Progress is displayed in easy-to-read charts
An online program for learners with Down syndrome
Watch them build confidence and skill as they complete module after module and begin to type!
Learn keyboarding in a Down syndrome friendly way
Become a more confident speller and boost reading fluency
Develop fine motor skills and dexterity
Foster independence through self-directed learning
The TTRS Course teaches typing and strengthens spelling and reading ability at the same time
TTRS takes a multi-sensory Orton-Gillingham based approach to learning
Learn to type, read and spell 4,500+ English words
Review and repeat lessons as many times as desired
Whole word approach from the start
Structured and supported learning
Getting started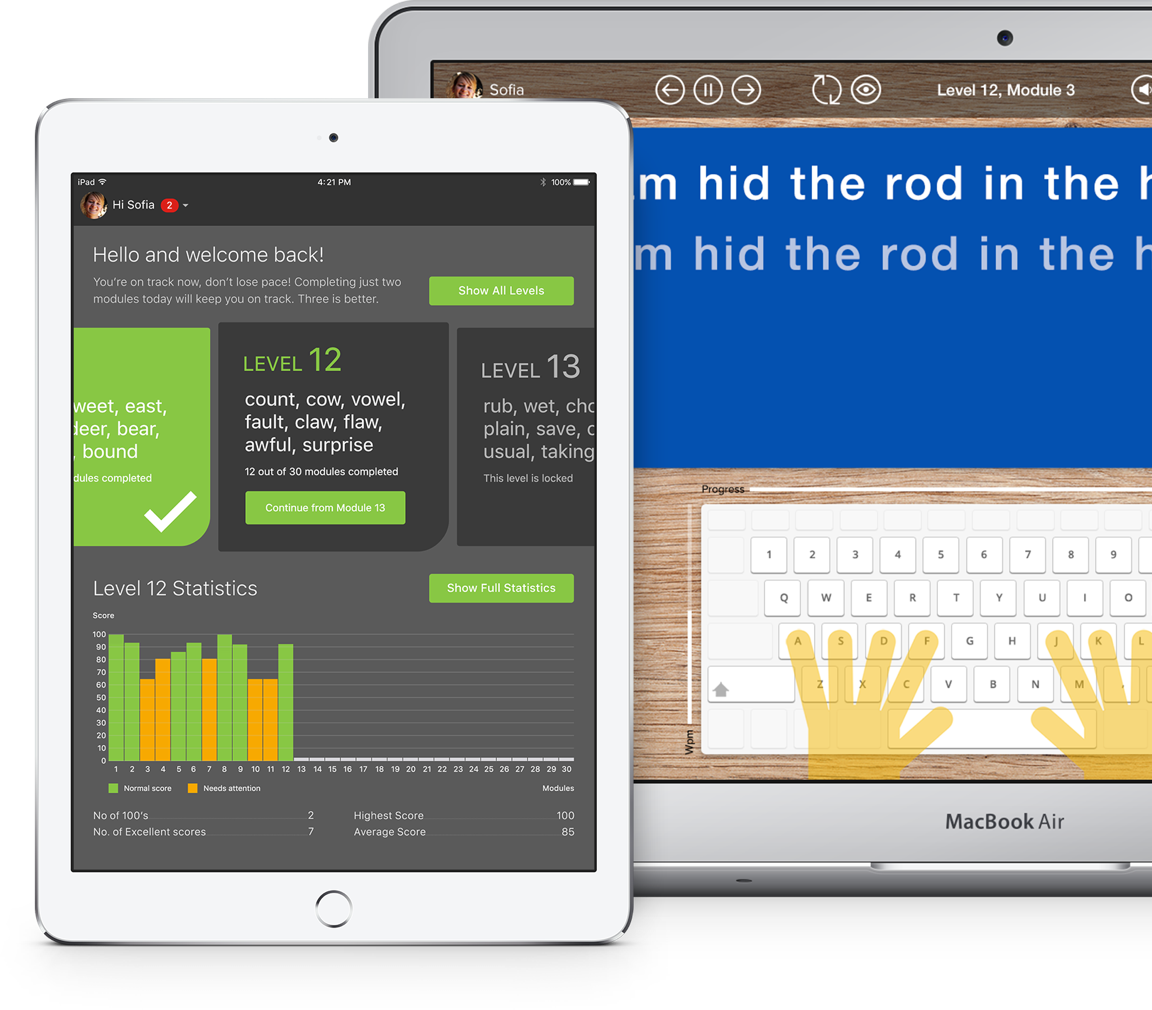 Log in from a laptop, iPad or desktop computer
Add an avatar and choose your favorite keyboard display
Turn on 'show hands' to provide guidance on finger placement
Set applause for praise after every module
See, hear and type English letters, words, phrases and sentences
Keep track of scores and review your progress
Earn badges, awards and printable certificates
Advantages of typing for individuals with Down syndrome
Learning to type and spell new words is fun
Builds confidence and language ability at the same time
A phonics-based curriculum reinforces literacy skills
Effort is rewarded with applause, badges, trophies, and printable certificates
Typing skills can be added to a CV to help individuals with Down syndrome find volunteer and work positions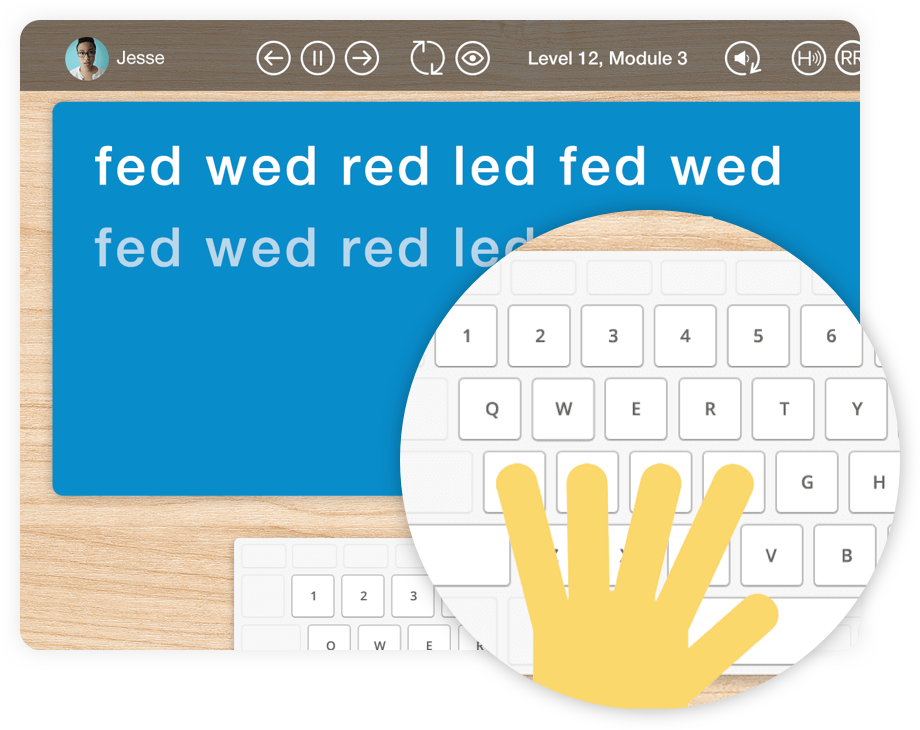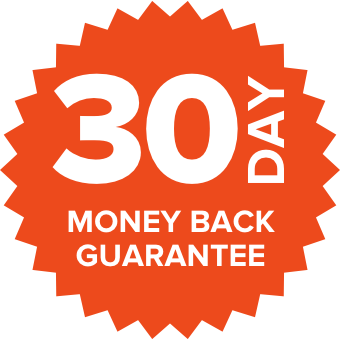 Start your subscription now
▾
United Kingdom

GBP

United States

USD

Europe

EUR

Canada

CAD

Australia

AUD

New Zealand

NZD
Prices include VAT.
Subscriptions are renewed automatically and can be canceled or paused at any time.
All of our plans include:
Unlimited 24/7 support
Quick and easy setup
Math & Science practice
Custom lesson creator
Testimonials and reviews
Denise, Parent of a learner with Down syndrome
My son Josiah is 12 and he has Down syndrome. He can't spell very well so we have the TTRS Settings set to Remember & Repeat. In this way he sees, hears and types a word and then the word goes away so he has to type it again. This helps strengthen his memory for the written forms. I'm pleased with TTRS because while Josiah doesn't have a lot of words per minute, he is actually touch-typing. Eventually, he'll get faster, but for right now he's doing great and he feels very proud of himself – and that's what counts!
Enid, Parent of a learner with Down syndrome
We had looked into typing before but had been at a bit of a loss as to where to go for a course that would be easy and clear enough for Fintan to do. With TTRS it was different. We met with Carol, a local TTRS tutor, who recommended starting the program at home. We signed up and my son just took to it like a duck to water. The interface was so clear and straightforward! Plus, the typing covered so much; it was helping his spelling and reading skills as well as his dexterity. Every time he gets close to finishing a level he's delighted to see his scores and can't wait to see his progress. There's a big cheer that comes with the score on-screen and he gets so excited!
My grandson was 14 when we started using TTRS and he has Down syndrome. He has a difficult time with small motor skills such as using a pencil. Over the two years that he used TTRS, he became quite competent at keyboarding, which helped him tremendously with his spelling.
S. Jordan , Grandparent of a learner with Down syndrome

I am a single parent of an adult child with Down syndrome who loves to type and copy words. She says it helps her. She is a visual learner and phonics is not working. We're excited to try typing.
TTRS user , Parent of an adult learner with Down syndrome

My daughter is 16, has Downs syndrome and is learning to type. Her low-muscle tone makes manual writing pretty difficult, and her verbal language can be hard to understand, but this course is opening doors for her! With typing she can get her thoughts and words down, so even people who don't know her can understand her. We love TTRS!
N. Finley , Parent of a teenager with Down syndrome

My adult child with Down syndrome can't spell so we are trying TTRS for muscle memory and to build skills with computers. On her first try she completed a module and didn't want to stop. Thanks for helping her as she is learning to type, spell, and do computer work all at once.
C. Larue , Parent of an adult learner with Down syndrome

My student with Down syndrome likes that he is able to teach himself typing and spelling. He considers it a sort of game and his dad is very pleased with the program. As a tutor, I'm most impressed because I was unable to break through the concept of phonics and reading with him. Yet several months into the TTRS program, he is reading words...
D. Dionne , Tutor of a learner with Down syndrome

Frequently asked questions
Does the course need to be supervised? It all depends on the learner. Some individuals with Down syndrome enjoy going through with a tutor, teacher or parent to encourage them, and others prefer the independence of working through modules on their own.
Does a learner have to use the correct fingers to type? No! Many TTRS users with Down syndrome go through the modules without attention to finger placement. Some make use of one, two or even three fingered-typing.
Can TTRS help with apraxia of speech? Yes – TTRS takes a multi-sensory approach that can be used to reinforce speaking skills when learners say the words aloud as they type them. The multi-sensory approach also strengthens auditory processing skills.
Is there support for learners with visual and hearing impairment? Yes – at the top of the TTRS website you will find a link to the Accessibility Me service which provides support for users with visual and hearing impairments.
Do you have training materials for parents and teachers who wish to deliver the course? Yes – there is an online manual and we have several student success checklists that can help.
Can I get my money back if I find the course isn't a good fit? Of course! We know every learner with Down syndrome is unique and there is no one size suits all solution to teaching literacy and typing skills. If TTRS isn't what you're looking for and you've passed your 30-day money back guarantee period, just get in touch with our team.